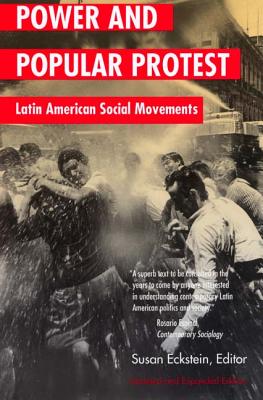 Stock Image
Author Name Eckstein, Susan (Editor) ; Garreton, Manuel M. ; Levine, Daniel H. ; McClintock, Cynthia ; Mainwaring, Scott ; Alves, Maria Helena Moreira ; Nash, June ; Navarro, Marysa ; Walton, John ; Crowley, Timothy Wickham ; Zamosc, Leon
Title Power and Popular Protest: Latin American Social Movements
Binding Soft Cover
Book Condition Fair
Publisher New York Univ of California Pr 1989
ISBN Number 0520064143 / 9780520064140
Seller ID A8055
Some slight edgewear, slight spine crease, some rubbing on the covers, minor creasing, highlighting throughout the book; otherwise a bright, clean and tight copy.
More Description
Why, in both democratic and authoritarian governments, do the politically and economically weak sometimes take to the streets and not to the ballot boxes? Why do angry workers at times support revolutionary movements but at other times express outrage through footdragging, strike activity, religion, and rituals? And why do similar types of protest movements produce startlingly different results in different countries?
The essays in this book--by historians, sociologists, political scientists, and anthropologists--explore these questions in a wide-ranging investigation of the causes and consequences of protest movements in Latin America. Eclectic and insightful, the essays represent a range of subjects, from an examination of the varying faces but common origins of rural guerilla movements, to a discussion of multiclass protests, to an essay on different popular movements similarly grounded in Liberation Theology. Together these studies demonstrate that the patterning of defiance is shaped by structural forces that are independent of whatever rage and psychological states of mind that prompted people to protest. Using solid, empirical research, they examine how the dynamics of defiant acts are rooted in institutional and cultural situations.
This volume will attract a wide interdisciplinary audience of scholars, students, and policy-makers and will be an indispensable text for anyone concerned with reducing inequities and injustices around the world, so that oppressed people need not be defiant before their concerns are addressed.
Price = 22.50 USD